Orange Coast Magazine
the happy prisoner
ONE MAN'S STORY OF CRIME, STRUGGLE AND REDEMPTION --AND HOW HE'S WORKING TO SET OTHERS FREE
by Jerry Hicks * Photography by Challenge Roddie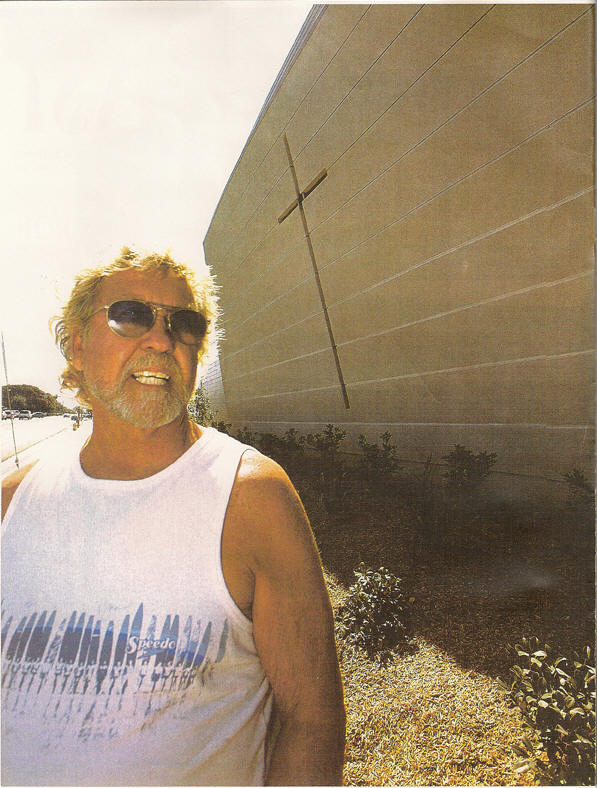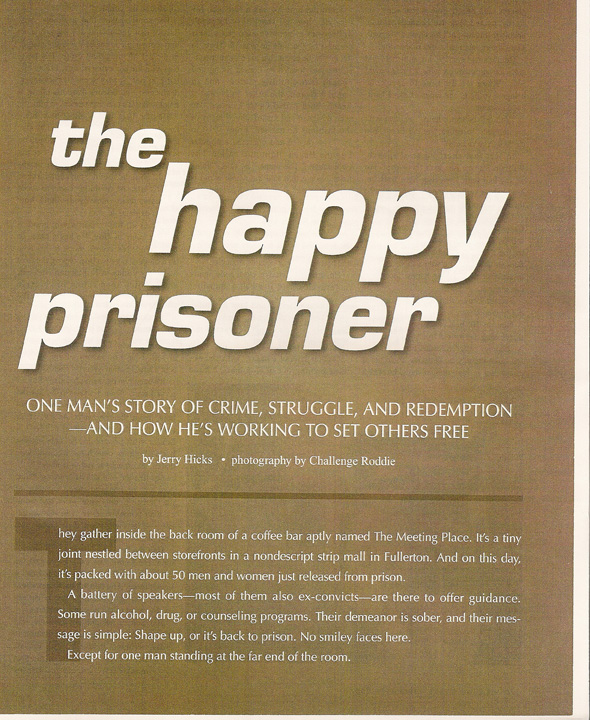 They gather inside the back room of a coffee bar aptly named The Meeting Place. It's a tiny joint nestled between storefronts in a nondescript strip mall in Fullerton. And on this day, it's packed with about 50 men and women just released from prison.
A battery of speakers --most of them also ex-convicts-- are there to offer guidance. Some run alcohol, drug, or counseling programs. Their demeanor is sober, and their message is simple: Shape, or it's back to prison. No smiley faces here.
Except for one man standing at the far end of the room.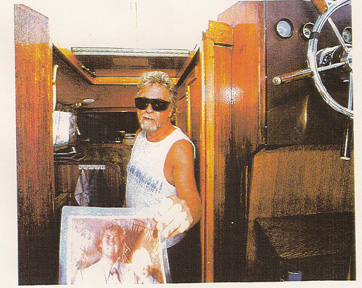 He sports a ,veil-trimmed, graying beard, a full head of curly hair, tinted glasses, and beach clothes that show his sturdy, tanned legs. He bounces around, unable to sit still until his chance to speak. The fidgety seem calm by comparison.
He nods and surveys his audience, and stops to comment on what a great crowd it is. When it's his time to speak, he brings a smile to the faces of these hardened ex-cons.
"You left prison a hero" he says with excitement, "because you survived I You made it. You're here !"
In just that short burst of speech, William Sultzer has won them over. For all the hell their lives may have been behind prison walls, someone has reminded them What counts: They've made it back. This is Sultzer's life today-he is The Happy Prisoner. It 's even the name of his self-published book, which he gives away by the thousands. Subtitled How Misfits Become Miracles. he wants these ex-cons to see that they can be happy, too. They can make it.
Sultzer knows that firsthand. He, too. did time in prison.
Now. at 70. he's unassuming and non-threatening. He speaks freely and frequently about his belief in Jesus Christ --his savior, quite literally he believes. You'd never guess that in his younger years he was a wealthy nightclub owner-and one of the county's most prolific cocaine smugglers.
From the time he was a teenager, his lifestyle often fell short of being legal. Sultzer ran a lucrative auto parts theft business by the time he was 18. Then, in the 1960s, he channeled his entrepreneurial energies toward an honest living and bought two clothing stores --one in Laguna Beach, the other in Newport Beach, both called Outer Limited. He even designed and manufactured many of the fashions he carried. From 1970 to 1977. he owned and operated a popular Laguna Beach nightclub called The Orphanage: "The name," he says, "came from a poem that said the whole world is an orphanage" It was so successful that Sultzer opened a second club in San Francisco. Jerry Garcia and Van Morrison played there, Sultzer says.
And then another opportunity emerged -he branched out in business once again and became a major cocaine smuggler.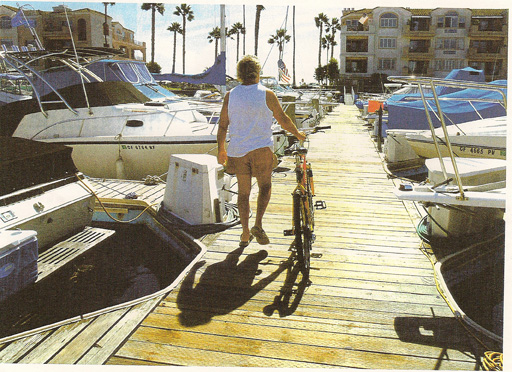 He drove expensive cars. rode fancy motorcycles. and lived in a mansion. Instead of a bank. he rented a $19 a month storage facility and kept his millions locked away inside a big trunk.
Business was good. but he wanted to make it even better.
"When I wasn't happy with the cocaine coming out of Colombia, I hired my own chemist and set up shop in Peru," he says. "I had the finest, purest cocaine in the country."
For some reason that probably only Sultzer can understand, it's important to him that people know he never got caught in the act of smuggling drugs. His troubles with the law came because others ratted him out. ]t may seem like a narrow distinction-he doesn't deny his life as a crook-but it's one that matters to him.
He also likes to talk about how lucky he was. Though he was sentenced to seven years by a federal court judge, he served only four. And the year after his conviction. federal guidelines were toughened. Had he been sentenced three months later, he would have served about 45 years. Jesus intervened --that's how Sultzer explains it.
Sultzer attributes everything good in his life today to God. He has a place in Buena Park but spends much of his time on a modest, donated boat among the flee! of luxury yachts in Huntington Harbor. and is often seen riding his bicycle through the harbor and along the Huntington Beach boardwalk.
"The car I drive and the boat belong to Jesus:" he says with a huge smile. "I just get to use them. I own absolutely nothing myself: I have no money of my own except a small Social Security check."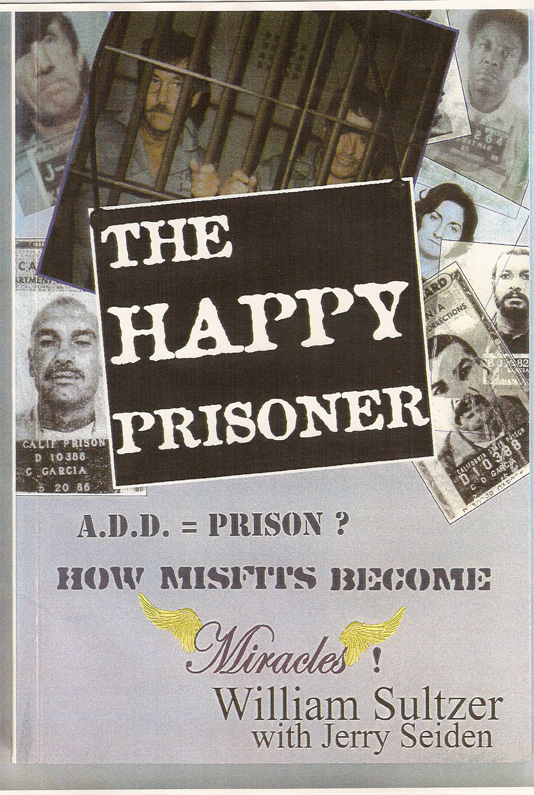 It's been two decades-plus since Sultzer served time. Since his release. he has devoted his life to helping those he left behind, inside the gray walls. As part of his ministry-he calls it Psalm 146:7 Sultzer visits prisons and halfway houses, hosts songfests, church services, and food drives, and speaks at state-mandated gatherings like the one at The Meeting Place. And now he hopes to attend meetings of the Orange County elite-men and women who probably never even met an ex-con to let them know their dollars can help make things work better.
Half the Sultzer message is religious in tone. He found Jesus Christ in jail, he says, even before a judge handed down his sentence. And he isn't backward about telling you that finding Christ is the answer to most of the ex-cons' problems.
But Sultzer has another message, and it's one that's gaining serious attention in today's criminal justice system. He lets his audiences know that part of his own
problems came about because he suffers from Attention Deficit Disorder, commonly tagged as ADD. (Sultzer likes to say it also stands for A Divine Difference:
"God made us this way.") He's dyslexic and suffers from Tourette's Syndrome, which causes his jumpy nature. All are things he didn't discover until long after his prison days were over. Most prisoners today suffer from ADD, Sultzer contends, and don't know it.
"We have to recognize that to know how to help them," he says.
Sultzer is the misfit on the panel at The Meeting Place. He isn't running a program that offers immediate assistance. But Mitch Shaughnessy, the state parole agent in charge of that gathering, says he always wants to include Sultzer.
"These people identify with his message," Shaughnessy says. "He knows how to reach them."
It doesn't take long to notice Sultzer's ADD and Tourette's Syndrome. Though very bright, he has the attention span of a toddler, popping from one subject to another, constantly sorting through his various stacks of papers. He can sit still for maybe two minutes -and he recognizes it. In videos he's done, he says he can't stand to look at himself because he's always grabbing at his shirt collar like the late comic Rodney Dangerfield. Sultzer's book lists the symptoms of ADD: easily distracted, impulsive, restless, hyperactive, disorganized, easily bored, impatient, running many projects at once.
When a visitor suggests that all of those describe him perfectly, Sultzer laughs heartily. "Yes, of course!" he says. "I told you: I'm ADD. I just wish I'd known it before I went to prison."
Once released in 1984, Sultzer threw himself into ministering to inmates-Žthough he had to overcome other obstacles at first. State officials locked him out when they found out he was still on parole. A miracle happened, he says, when he received papers releasing him from parole the next day.
"I never missed one meeting at the prisons," he boasts. "And I've been going back ever since."
His comrade in those early days was William Vanderplas of Lemon Heights --well-to-do in the real estate business- who met Sultzer during a meeting at the Crystal Cathedral in Garden Grove.
"A divine meeting, I call it," Vanderplas says. "William and I would go to a lot of these prisons together. There was no question that he was very effective in reaching these prisoners."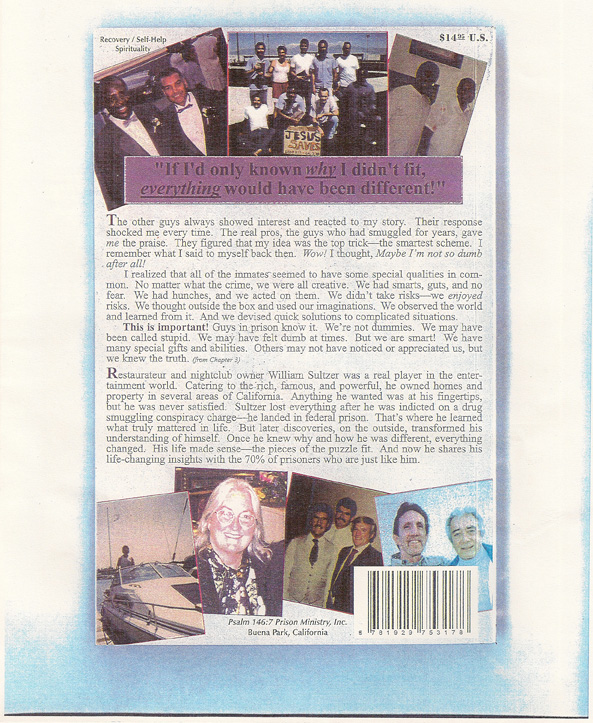 Sultzer's Happy Prisoner approach grew out of his newly discovered religious fervor. But so many other prisoners suffering from ADD have no outlet, he says. And when they get out, they're not ready for the dramatic adjustments ahead of them. So he hits the prison trail and gathering places of the newly released in hopes of reaching them at perhaps their most critical hour ..
Now, with the book, he hopes to reach even more people. The inspiration to write it hit him one day as he gazed out over the harbor. He pulled up a deck chair on the wooden dock next to the boat he shares with Jesus and began writing in pencil on lined notepaper.
"I was headed to prison 25 years before I got there," he writes on the first page. "I wrote this book so that others will have information that was not available to me."
Part of the book is Sultzer's own religious zeal spewing forth. Part is a close look at ADD and Tourette's Syndrome. There was no such book to help him through his own bad times, he says.
"If I'd had this book in my hands before, I never would have gotten in trouble. I would have said, 'Oh, that's why I'm like this.' I would have understood myself better," he says. "My problem was, I didn't have the capacity to figure out the consequences ahead of time."
His friends today are often those he has helped along the way.
Like Tim Adams, who runs a monthly program for ex-cons with Sultzer in, Buena Park. They met in 1986, at a gathering where a documentary was shown about how the author overcame his struggles. Eight years later, they met again, and Adams says he made it a point to become Sultzer's friend.
"He's had a great influence on me," Adams says. "He's had a positive effect on a lot of people."
At The Meeting Place, Sultzer tells the newly released parolees to give him their address, and he will send them a free copy of his book.
"My goal is to have this book in the hands of every man and woman getting out of prison," he says. "And to have the book in the hands of everybody running a prison today."
hands of every man and woman getting out of prison," he says. "And to have the book in the hands of everybody running a prison today."
He isn't above a bit of dubious name-dropping. Don Garcia, or Big D (for Death), godfather of a Mexican gang in the California prison system, has hailed his book; Sultzer says. He proudly displays a picture of himself with Big D, who is now out and working in gang intervention for the San Fernando Valley school system. Then there's the letter from Bruce Davis, serving a life term in prison for murder as part of the Charles Manson gang. Davis, who leads his own prison ministry, thanks him for writing the book and for being a positive role model for prisoners.
The cover of his book shows Sultzer behind bars, and booking photos of Garcia and a number of other high-powered ethnic leaders in prison. All of them, he says, have turned to God.
Sultzer spends a lot of his free time on his boat, tied up in the calm waters of the
harbor. The vessel is like a mini-office, with files everywhere, a copy machine, a shelf of books. An oddity taking up space in an aisle is a shofar, made of a ram's horn, from Israel. He loves to blow into it, gleefully laughing to one visitor at the bellowing sound it makes. But he quickly sets it aside so he can pore through his stacks of letters from inmates. He's well aware he needs a lesson in organization.
Prominent on a shelf is a color picture of a handsome man in an expensive suit, standing with a young boy.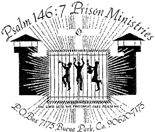 "That's my son with me," he says proudly. "That was taken in my smuggling days. My going to prison was hard on him. But he's doing well now."
There's also a picture of his son in the Navy. And a picture of Sultzer with his mother, Louise, who died a few years ago. He dedicated his book to her, and thanks her for supporting him while in prison and in his ministry. His big dream is to print 500,000 copies of his books, so he can send them to prisons and juvenile facilities all over America. But he's a
realist -that takes money his ministry doesn't have. He's always on the lookout for a philanthropic backer.
So what realistic goal is ahead for Sultzer?
"Just keep on doing God's work," he says. "His main job for me is to help these men and women getting out of prison."
It's a huge task.
Agent Shaughnessy relates the dour statistics back at The Meeting Place.
"About 70 percent of the people sitting right here today will wind up back in prison." he says "Our goal with these kinds of sessions is to help break that cycle. It's why William is here, along with all these others. If he can reach just one of them today. then this will have been worth it."
As for the name of his ministry. Psalm 146:7, it's a Bible passage that caries great meaning for Sultzer: "He upholds the cause of the oppressed and gives food to the hungry. The Lord sets prisoners free."
OC
-Jerry Hicks writes Orange Coast magazine's OC Confidential column.
Title: The Happy Prisoner: How Misfits Become Miracles!
Author: William Sultzer, with Jerry Seiden
190 pages; $14.95 Donation
Published by Psalm 146:7 Ministries, Inc